A patchwork image of the Sun (EN) - Een lappendeken van de zon (NL) - Une image en mosaïque du Soleil (FR)
Looking forward to perihelion (EN) - Uitkijken naar het perihelium (NL) - Dans l'attente de la périhélie (FR)
---
EN: This image is a mosaic of 25 individual images taken on 7 March by the high resolution telescope, part of the Extreme Ultraviolet Imager (EUI) instrument. In total, the final image contains more than 94 million pixels in a 9700 x 9700 pixel grid, making it the highest resolution image of the solar disk and outer atmosphere ever taken. Zoom in to marvel at the details. A full resolution image can be found here.
Credit: ESA & NASA/ Solar Orbiter/ EUI team; Data processing: E. Kraaikamp (ROB).
NL: Dit beeld is een mozaïek van 25 afzonderlijke foto's die op 7 maart zijn genomen door de hoge-resolutietelescoop die onderdeel is van de Extreme Ultraviolet Imager (EUI). In totaal bevat de uiteindelijke afbeelding meer dan 94 miljoen pixels in een raster van 9700 x 9700 pixels, waardoor het de opname met de hoogste resolutie is die ooit is gemaakt van de zonneschijf en de buitenste atmosfeer. Zoom in en bewonder alle details. Een beeld in volledige resolutie kan hier worden gevonden.
Credit: ESA & NASA/ Solar Orbiter/ EUI team; Gegevensverwerking: E. Kraaikamp (ROB).
FR: Cette image est une mosaïque de 25 images individuelles prises le 7 mars par le télescope haute résolution, qui fait partie de l'instrument EUI (Extreme Ultraviolet Imager). Au total, l'image finale contient plus de 94 millions de pixels dans une grille de 9700 x 9700 pixels, ce qui en fait l'image avec la plus haute résolution du disque solaire et de l'atmosphère externe jamais prise. Zoomer pour s'émerveiller des détails. Une image en pleine résolution peut être trouvée ici.
Crédit : ESA & NASA/ Solar Orbiter/ équipe EUI ; Traitement des données : E. Kraaikamp (ROB). 
---
A patchwork image of the Sun
On 7 March, 2022, the high-resolution telescope of the Extreme Ultraviolet Imager (EUI) onboard the Solar Orbiter spacecraft made a mosaic image of the solar disk. Over a period of more than 4 hours, the satellite aimed at different positions each time capturing a small square of the Sun at very high resolution. These images were then stitched together like a patchwork. The result was an extremely detailed image of the entire Sun. 
Solar Orbiter was located halfway between the Sun and the Earth when this mosaic image was made. David Berghmans: 'We needed 25 images to get the full picture of the Sun. We can't point the EUI instrument separately, so for each image we had to slightly change the orientation of the full satellite, a feat that took 4 hours and 30 min.' After the images were sent from the satellite to the ground, our scientists meticulously pieced them together. Not easy, because during those 4 hours and 30 minutes the sun rotates a little on its own axis and the solar atmosphere changes appearance.
The result is the sharpest image of the solar atmosphere ever taken. This mosaic image was taken when Solar Orbiter flew exactly between the Earth and Sun. This image can therefore easily be compared with similar images from other telescopes that orbit Earth. Although the latter are not as sharp, they can be used to calibrate the brightness of EUI's images.
On March 26, Solar Orbiter will be even closer to the Sun, which will give us images that will be nearly twice as sharp yet. However, from this close it is no longer possible to capture the entire solar disk in one mosaic, this would require too many images and especially too much reorientation of the satellite. Scientists will therefore point out the most interesting areas on the sun, and from those areas we will then take fast movies to follow the movements in the corona. This closest approach to the Sun (scientists speak of 'perihelion') is a highlight for the EUI team, both at the Royal Observatory of Belgium from where the instrument is operated, and with the European partners that have been essential during the construction of EUI. 
---
Een lappendeken van de zon
Op 7 maart 2022 maakte de hoge resolutie-telescoop van de Extreme Ultraviolet Imager (EUI) aan boord van Solar Orbiter een mozaïekbeeld van de zon. Gedurende meer dan 4 uur richtte de satelliet zich op verschillende posities, om telkens een klein stukje van de zon in beeld te brengen met een zeer hoge resolutie. Deze foto's werden dan als een lappendeken aan elkaar genaaid. Het resultaat was een zeer gedetailleerd beeld van de volledige zonneschijf.
Solar Orbiter vloog halverwege tussen de Zon en de Aarde toen dit mozaïekbeeld werd gemaakt. David Berghmans: 'We hadden 25 foto's nodig om de zon volledig in beeld te brengen. Het EUI instrument kunnen we niet apart richten, dus moesten we voor elke foto de satelliet in zijn geheel een beetje draaien, een huzarenstukje dat 4 uur en 30 min duurde.'  Nadat de beelden van de satelliet naar de grond waren gestuurd, brachten onze wetenschappers ze minutieus bij elkaar. Niet gemakkelijk want tijdens die 4 uur en 30 min is de zon een beetje om haar eigen as gedraaid en verandert de zonneatmosfeer van uitzicht.  
Het resultaat is het scherpste beeld van de atmosfeer van de zon ooit. Dit mozaïekbeeld is genomen toen Solar Orbiter precies tussen de Aarde en de Zon in vloog. Dit beeld kan je daarom gemakkelijk vergelijken met soortgelijke beelden van andere telescopen in een baan om de Aarde. Alhoewel deze laatsten niet even scherp zijn, kunnen ze gebruikt worden om de helderheid van de beelden van EUI te ijken.
Op 26 maart zal Solar Orbiter nog dichter bij de zon staan waardoor we foto's zullen verkrijgen die nog bijna twee keer zo scherp zijn. Van zo dichtbij is echter niet meer mogelijk om de volledige zonneschijf in één mozaïek in beeld te brengen, dit zou te veel foto's en vooral teveel heroriënteren van de satelliet vergen. Wetenschappers zullen daarom de meest interessante gebieden op de zon aanduiden, en van die gebieden zullen we dan snelle filmpjes maken om de bewegingen in de corona te volgen. Deze dichtste nadering tot de zon (wetenschappers spreken van 'perihelium') is een topmoment voor het EUI-team, zowel in de Koninklijke Sterrenwacht van België vanwaar het instrument bediend wordt, alsook bij de Europese partners die essentieel waren voor de bouw van EUI.
---
Une image en mosaïque du Soleil
Le 7 mars 2022, le télescope à haute résolution d'EUI (Extreme Ultraviolet Imager) à bord de la sonde spatiale Solar Orbiter a réalisé une image en mosaïque du disque solaire. Pendant plus de 4 heures, le satellite a pointé dans différentes directions, capturant à chaque fois un petit carré du Soleil à une très haute résolution. Ces images ont ensuite été assemblées comme un patchwork. Le résultat est une image extrêmement détaillée de l'ensemble du Soleil.
Solar Orbiter volait à mi-chemin entre le Soleil et la Terre lorsque cette image mosaïque a été réalisée. David Berghmans: 'Nous avons eu besoin de 25 images pour obtenir une image complète du Soleil. Nous ne pouvons pas pointer EUI séparément, donc pour chaque image nous avons dû repositionner légèrement le satellite dans son ensemble, un exploit qui a pris 4 heures et 30 min.' Une fois les images envoyées du satellite au sol, nos scientifiques les ont méticuleusement reconstituées. Pas facile, car pendant ces 4 heures et 30 minutes, le Soleil a tourné un peu sur son axe et l'atmosphère solaire a changé d'aspect. 
Le résultat est l'image la plus nette de l'atmosphère solaire jamais prise. Cette image en mosaïque a été prise lorsque Solar Orbiter a volé exactement à mi-distance entre la Terre et le Soleil. Vous pouvez donc facilement comparer cette image avec des images similaires provenant d'autres télescopes en orbite autour de la Terre. Bien que ces dernières ne soient pas aussi nettes, elles peuvent être utilisées pour calibrer la luminosité des images de EUI.
Le 26 mars, Solar Orbiter sera encore plus proche du Soleil, ce qui nous donnera des images presque deux fois plus nettes. Cependant, à cette distance, il n'est plus possible de capturer l'ensemble du disque solaire en une seule mosaïque, cela nécessiterait un trop grand nombre d'images et surtout une réorientation trop importante du satellite. Les scientifiques observeront donc les zones les plus intéressantes du Soleil, et, à partir de ces zones, feront ensuite des films rapides pour suivre les mouvements solaires dans la couronne. Ce survol de Solar Orbiter au point le plus proche de son orbite autour du Soleil (les scientifiques parlent de « périhélie ») est un moment fort pour l'équipe d'EUI, tant à l'Observatoire royal de Belgique d'où est exploité l'instrument, que chez les partenaires européens qui ont été essentiels à sa construction.
---
Looking forward to perihelion - Uitkijken naar het perihelium - Dans l'attente de la périhélie 
Louise Harra, Davos
EN: "I am very excited that we start the proper science phase and get close up to the Sun. What I'm most looking forward to is finding out whether all these small dynamical features we see in EUI (coined campfires) can make their way into the solar wind or not. There are so many of them! To understand that we need to use both the instruments on the spacecraft that 'see' the Sun (like EUI) and the instruments that 'touch' the Sun as the solar wind flows past the spacecraft."
NL: "Ik ben erg opgewonden dat we aan de echte wetenschap kunnen beginnen en dicht bij de zon komen. Waar ik het meest naar uitkijk, is om te bepalen of al die kleine dynamische structuren die we in EUI zien (kampvuren genoemd) hun weg naar de zonnewind kunnen vinden of niet. Het zijn er zo veel! Om dat te begrijpen moeten we de zowel de instrumenten op de satelliet gebruiken die de zon 'zien' (zoals EUI) als de instrumenten die de zon 'aanraken' wanneer de zonnewind langs de satelliet stroomt."
FR: "Je suis très enthousiaste à l'idée que nous entamons la phase scientifique proprement dite et que nous nous approchons du Soleil. Ce que je souhaite le plus voir, c'est de découvrir si toutes ces petites structures dynamiques que nous voyons dans EUI (appelées feux de camp) peuvent ou non se frayer un chemin dans le vent solaire. Il y en a tellement ! Pour comprendre cela, nous devons utiliser les instruments de la sonde spatiale qui à la fois "voient" le Soleil (comme EUI) et touchent le Soleil lorsque le vent solaire atteint la sonde."
Frédéric Auchère, Orsay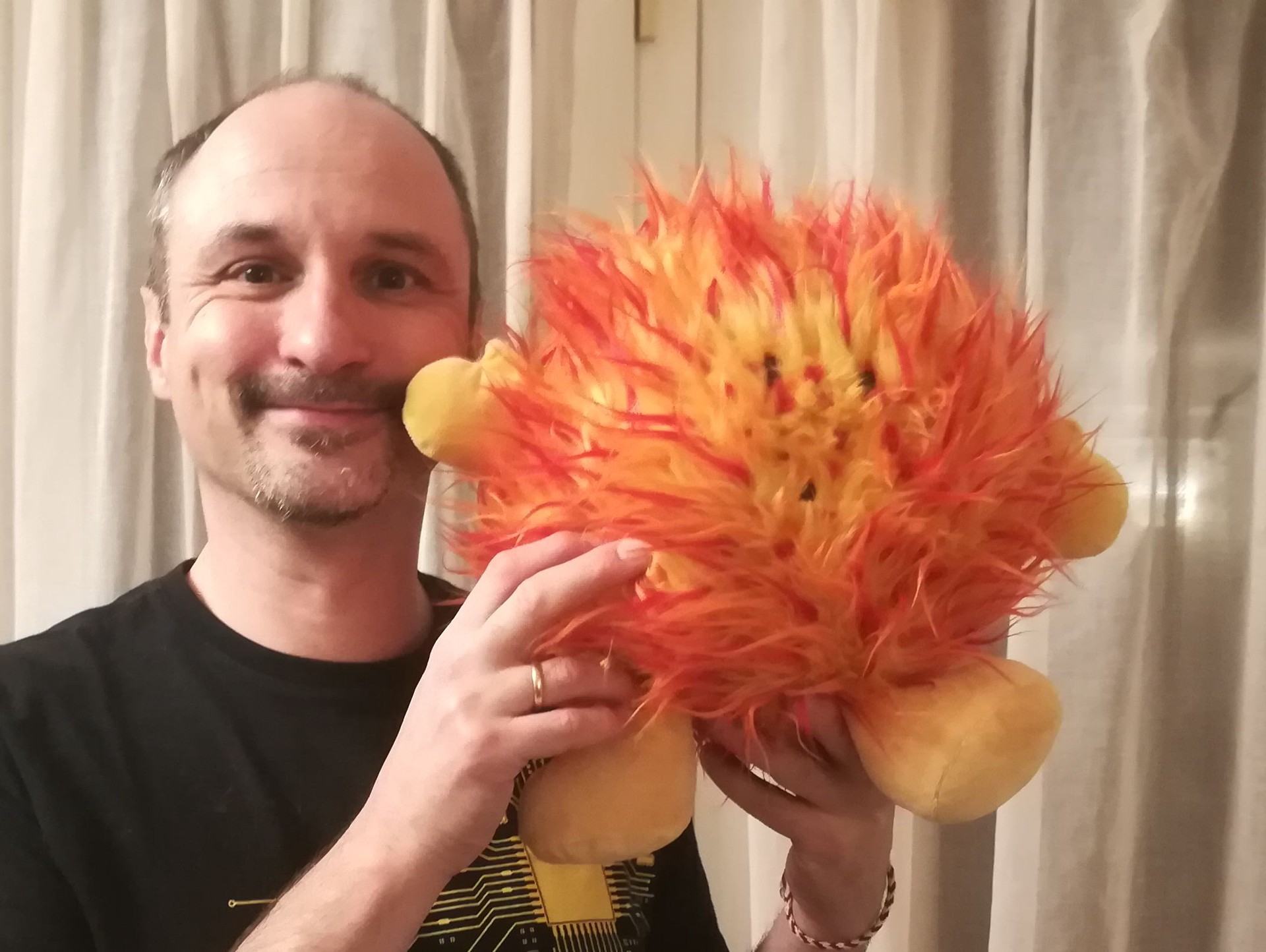 EN: "After spending 15 (!) years  designing, building & testing EUI, it was a real thrill and relief to see that the first images were just perfect, revealing both some of the tiniest and some of the largest features ever observed on the Sun at these wavelengths. I'm now very excited about the upcoming perihelion, during which EUI will make groundbreaking observations, and I also can't wait for the later phase of the mission, during which we will see the Sun from above!"
NL: "Na 15 jaar (!) ontwerpen, bouwen en testen van EUI, was het een echte kick en opluchting om te zien dat de eerste beelden gewoon perfect waren en zowel de kleinste als de grootste structuren onthulden die ooit op de zon zijn waargenomen in deze golflengten. Ik ben nu erg opgewonden over het komende perihelium, waarin EUI baanbrekende waarnemingen zal doen, en ik kan ook niet wachten op de latere fase van de missie, waarin we de zon van bovenaf zullen zien!"
FR: " Après avoir passé 15 (!) ans à concevoir, construire et tester EUI, ce fut un moment vraiment émouvant et un soulagement de voir que les premières images étaient tout simplement parfaites, révélant à la fois certaines des plus petites et certaines des plus grandes structures jamais observées sur le Soleil à ces longueurs d'onde. Je suis maintenant très enthousiaste à l'idée du prochain passage au périhélie, au cours duquel EUI fera des observations révolutionnaires, et j'attends avec impatience la phase ultérieure de la mission, au cours de laquelle nous verrons le Soleil d'en haut !"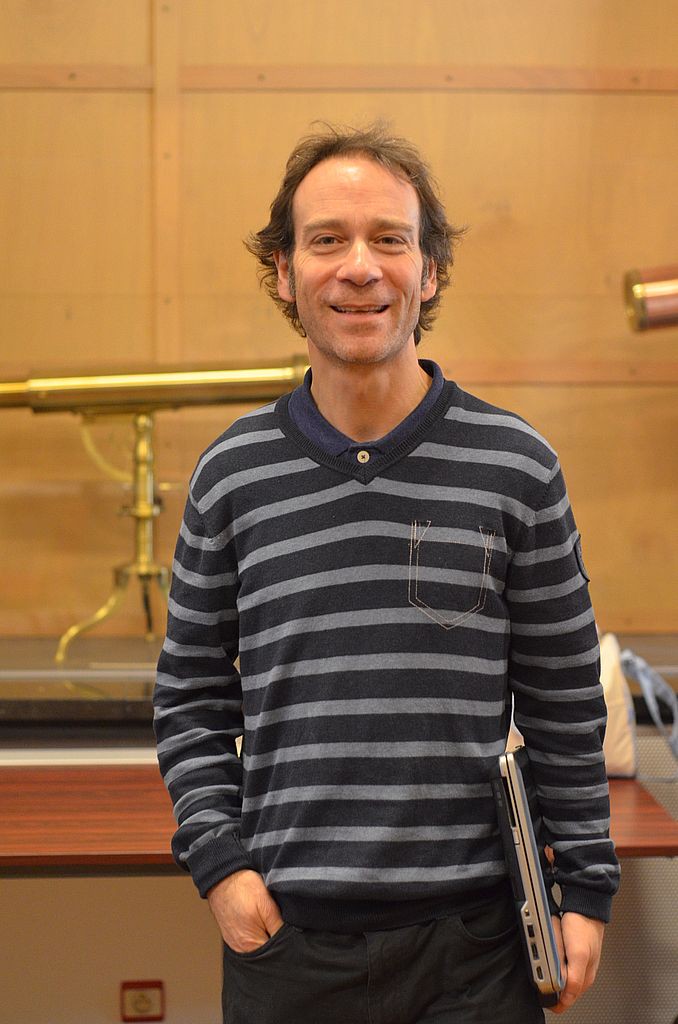 Francis Verbeeck, Brussel/Bruxelles
EN: "I am especially excited about the upcoming perihelion because we will observe campfires – the tiniest dynamical features on the Sun ever observed and only recently discovered – in twice the previous best resolution. How many campfires are there? Is there a smallest possible campfire? And can their presence explain the fact that the Sun's atmosphere is so hot? (1 million degrees while the visible surface is "only" 6 000 degrees!)"
NL: "Ik ben vooral enthousiast over het komende perihelium omdat we kampvuren - de kleinste dynamische structuren op de zon die ooit zijn waargenomen en pas onlangs zijn ontdekt - zullen observeren met een resolutie die twee keer zo hoog als de beste voordien. Hoeveel kampvuren zijn er? Is er een kleinst mogelijk kampvuur? En kan hun aanwezigheid een verklaring zijn voor het feit dat de atmosfeer van de zon zo heet is? (1 miljoen graden terwijl het zichtbare oppervlak "slechts" 6 000 graden is!)"
FR: "Je suis particulièrement excité par le prochain passage au périhélie, car nous observerons les feux de camp - les plus petites structures dynamiques du Soleil jamais observées et seulement récemment découvertes - avec une résolution deux fois supérieure à la meilleure résolution précédente. Combien de feux de camp y a-t-il ? Existe-t-il un plus petit feu de camp possible ? Et leur présence peut-elle expliquer le fait que l'atmosphère du Soleil soit si chaude ? (1 million de degrés alors que la surface visible n'est "que" de 6 000 degrés !)"
Udo Schuehle, Göttingen
EN: "Together with my colleagues we have designed a telescope capable of observing the spectral line of hydrogen in the far ultraviolet. Since hydrogen is the most abundant species in our universe, and also on the Sun, its radiation is the most intense. We are thus most excited about the high speed of imaging we can make with this bright spectral line of our star. In a way, with the images of this telescope channel we are able to make a connection between the structures in the hotter corona and the underlying cooler solar surface structures. "
NL: "Samen met mijn collega's hebben we een telescoop ontworpen die waarneemt in de spectraallijn van waterstof in het verre ultraviolet. Omdat waterstof het meest voorkomende element is in ons heelal, en ook op de zon, is de straling ervan het meest intens. Wij zijn dan ook zeer enthousiast over de hoge snelheid van de beeldvorming die wij met deze heldere spectraallijn van onze ster kunnen maken. In zekere zin zijn we met de beelden van deze telescoop in staat een verband te leggen tussen de structuren in de hetere corona en de onderliggende koelere structuren van het zonneoppervlak. "
FR: "Avec mes collègues, nous avons conçu un télescope qui observe dans la ligne spectrale de l'hydrogène dans l'ultraviolet extrême. L'hydrogène étant le gaz le plus abondant dans notre univers, et également dans le Soleil, son rayonnement est le plus intense. Nous sommes donc très enthousiastes quant à la cadence élevée des clichés que nous pouvons réaliser avec cette ligne spectrale brillante de notre étoile. D'une certaine manière, avec les images de ce canal du télescope, nous sommes en mesure d'établir un lien entre les structures de la couronne plus chaude et les structures sous-jacentes plus froides de la surface solaire."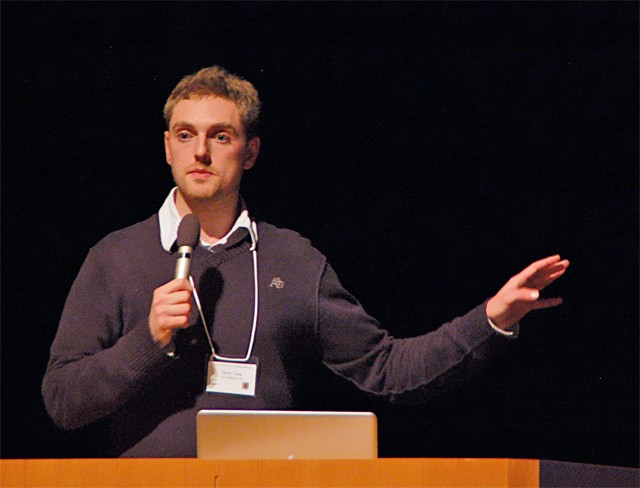 David Long, London
EN: "I'm really excited about EUI's ability to see both the smallest features ever seen in the solar atmosphere (like the campfires) and also the large CMEs that erupt towards Earth, at the same time. I'm also really looking forward to matching what we see with EUI to material sweeping past the Solar Orbiter spacecraft, and hopefully we'll get some really good examples of that in the upcoming perihelion."
NL: "Ik ben echt enthousiast over EUI's vermogen om tegelijkertijd zowel de kleinste structuren te zien die ooit in de zonneatmosfeer zijn waargenomen (zoals de kampvuren) als ook de grote CME's te volgen die in de richting van de aarde uitbarsten. Ik kijk er ook naar uit om wat we met EUI zien te vergelijken met materiaal dat langs de Solar Orbiter satelliet vliegt, en hopelijk krijgen we daar in het komende perihelium een paar hele goede voorbeelden van."
FR: "Je suis vraiment enthousiasmé par la capacité d'EUI à voir à la fois les plus petites structures jamais vues dans l'atmosphère solaire (comme les feux de camp) et aussi les grandes éjections de masse coronale qui déferlent vers la Terre en même temps. J'ai également hâte de comparer ce que nous voyons avec EUI à la matière  qui passe devant le vaisseau spatial Solar Orbiter, et j'espère que nous aurons de très bons exemples de cela lors du prochain passage au périhélie." 
David Berghmans, Brussel/Bruxelles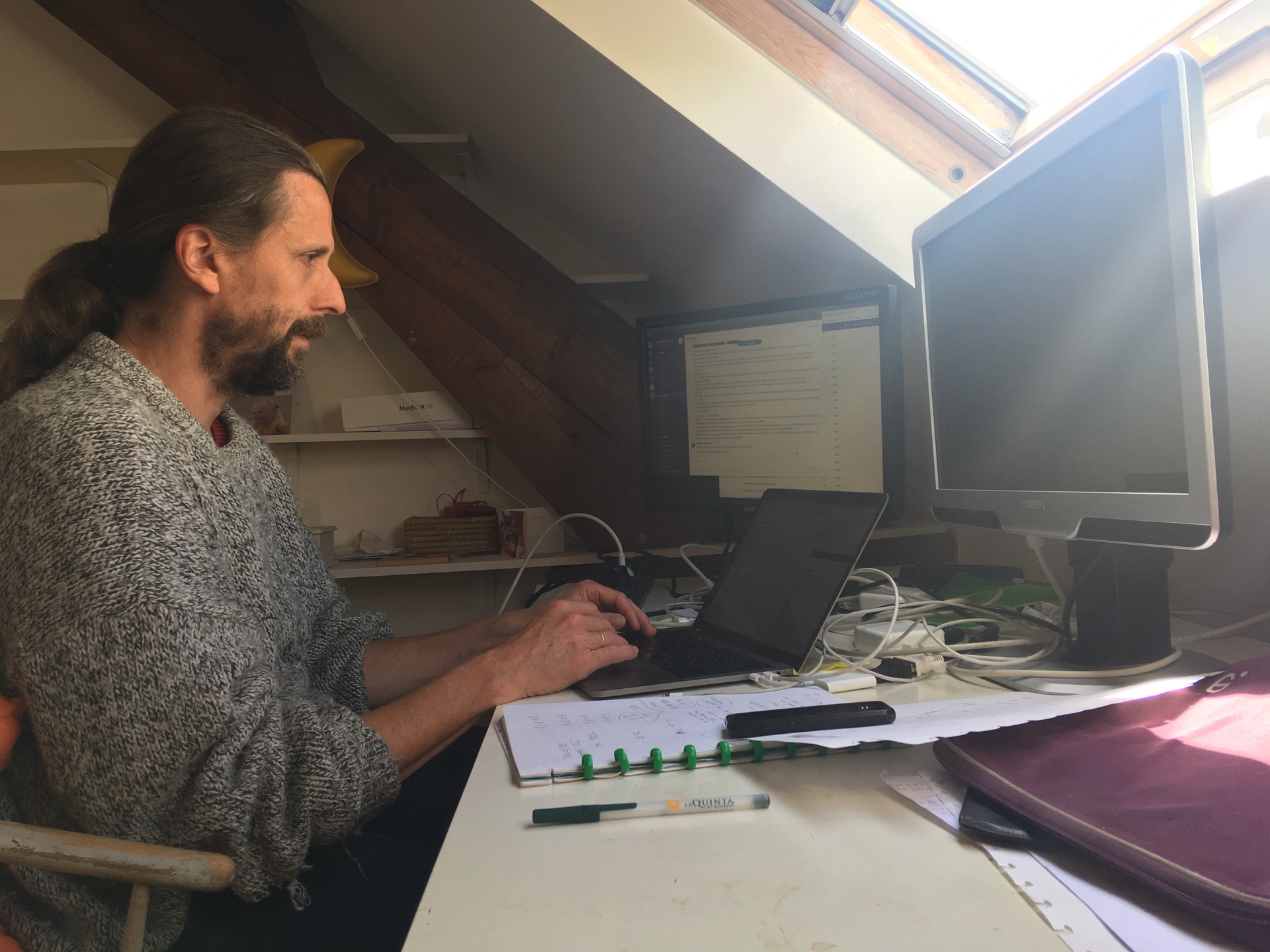 EN: "EUI brought me two big surprises. The first one was that we got a glimpse of  the smallest  structures  ever seen in the solar EUV corona, the campfires, and that we can measure how remarkably low they are in the solar atmosphere.  The other surprise is that EUI can also observe the largest structures in the solar EUV corona, namely CMEs,  and track them to remarkably large heights away from the Sun."
NL: "EUI heeft me twee grote verrassingen gebracht. De eerste was dat we een glimp hebben kunnen opvangen van de kleinste structuren die ooit in de EUV-corona van de zon zijn gezien, de kampvuren, en dat we kunnen meten hoe opmerkelijk laag in de zonneatmosfeer ze zich bevinden. De andere verrassing is dat EUI ook de grootste structuren in de EUV corona van de zon kan waarnemen, namelijk CME's, en ze kan volgen tot opmerkelijk grote hoogten weg van de zon."
FR: "EUI m'a apporté deux grandes surprises. La première est que nous avons eu un aperçu des plus petites structures jamais vues dans la couronne solaire en extrême ultraviolet (EUV), les feux de camp, et que nous pouvons mesurer à quel point ils sont remarquablement bas dans l'atmosphère solaire. L'autre surprise est que EUI peut également observer les plus grandes structures de la couronne solaire en EUV, à savoir les éjections de masse coronale, et les suivre jusqu'à des hauteurs remarquablement élevées loin du Soleil."
Submitted by EDH on Wed, 2022/03/23 - 13:48