Niet zichtbaar in België, maar Belgische instrumenten aan boord van PROBA2 konden de zonsverduistering toch waarnemen.
Pas visible en Belgique mais observée par des instruments spatiaux belges à bord de PROBA2
Not visible in Belgium but observed by Belgian space instruments onboard PROBA2.

Op maandag 21 mei, tussen 00:10 en 03:36 Belgische tijd gleed de schaduw van de Maan over de Aarde.
Lees meer op de PROBA2 website en geniet van de film.

Le lundi 21 mai, entre 0:10 et 3:36 heure belge, la Lune a projeté son ombre sur la Terre....
Lire plus sur le site de PROBA2 + film de l'éclipse.

On Monday May 21, between 00:10 and 03:36 Belgian time, the shadow of the Moon swept over the Earth.
Read more on the PROBA2 website and enjoy the movie.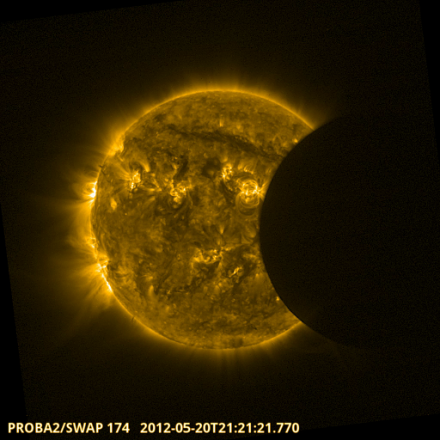 ---
Submitted by PV on Mon, 2012/05/21 - 00:00