De Venusovergang zal slechts voor een korte periode te volgen zijn in België, maar zal volledig in beeld gebracht worden door een Belgische telescoop aan boord van de ESA satelliet PROBA2. De film wordt geupdate naarmate de PROBA2 beelden naar de Aarde worden verzonden en verwerkt worden in het PROBA2 Science Centre op de Koninklijke Sterrenwacht van België.
Bekijk alvast de simulatie op de PROBA2 website.


Le transit de Vénus est visible en Belgique durant une période très courte, mais un téléscope belge à bord de PROBA2 peut l'observer entièrement. Le film sera mis à jour dès que les images de PROBA2 seront envoyées sur Terre et traitées par le centre de mission scientifique de PROBA2 situé à l'Observatoire royal de Belgique. On peut déjà en regarder une simulation.
On peux regarder déjà une simulation.

The Venus transit of the Sun will be only visible for a short period in Belgium, but it will be recorded from beginning to end by a Belgian instrument onboard the satellite PROBA2. The movie is updated as soon as the data are downlinked to Earth and processed in the PROBA2 Science Centre at the Royal Observatory of Belgium.
You can watch already a simulation.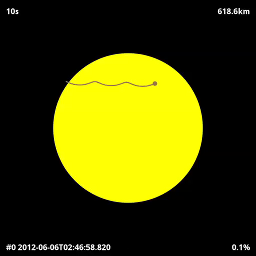 ---
Submitted by PV on Mon, 2012/06/04 - 00:00