A powerful solar event occurred at 08:05 UT today, Aug 09 on the Sun. Email alerts are being sent.
A strong burst of radiation, a flare, was measured by the GOES satellite. The flare was also seen as a light flash in PROBA2/SWAP and SDO/AIA images. Solar radiation reaches the Earth after 8 minutes. This flare is up to now the strongest flare of the current solar cycle.

Shortly after the peak of the flare, the proton flux near Earth increased. GOES is also capable of measuring these energetic electrical particles. The Sun throws a whole bunch of these particles into space, more than usual. The proton flux passed the storm threshold. The storm level is not dramatic.

A plasma cloud left the Sun at the moment of the event. It is now traveling through space at a speed of more than 1000 km/s. At this speed of 1000 km/s and without any deceleration, a cloud bridges the distance between the Sun and the Earth in 1 day and 17 hours. The plasma cloud is not directed straight at Earth. But a glancing blow is possible and can cause a geomagnetic storm.
Possible consequences on the day side of the Earth associated with the radiation burst:
radio communication can be interrupted - satellites orbitting just above the Earth's atmosphere can feel a drag force - less accurate measurements with navigation systems based on satellites - disturbance of radio signals passing through the ionosphere, i.e. satellite telephone

Possible consequences associated with the proton event:
Additional radiation at the Earth poles and in space (ISS is vunerable) - Radio communication disruption at the poles

Possible consequences when the the plasma cloud arrives at Earth:
aurora, chances are higher in high latitude regions, near the Earth poles. The chances for aurora in Belgium are limited. - drag on satellites - disturbances in HF radio communication
---
Deze morgen om 08:05 uur (Universele tijd) spuwde de zon een krachtige zonnevlam uit. Alarmberichten werden meteen uitgestuurd via email.
Een enorme toename in X-straling - een zonnevlam - werd geregistreerd door de GOES satelliet. De zonnevlam zie je als een lichtflits in ultraviolette beelden, genomen door de instrumenten AIA op SDO en SWAP op PROBA2. Zonnestraling, waarin o.a. ook normaal licht zit, bereikt de aarde (en de satellieten) 8 minuten nadat ze is vrijgekomen op de zon. Deze zonnevlam is de sterkste zonnevlam van zonnecyclus 24 (huidige cyclus), die net op gang gekomen is na een zeer lang minimum.

Kort nadat de zonnevlam werd geregistreerd, overschreed ook de protonenstroom (> 10MeV) de "storm-grens", eveneens gemeten door GOES. Protonen zijn hoogenergetische deeltjes die na ongeveer een half uur de aarde bereiken. Deze deeltjes kunnen schade toebrengen aan zonnepanelen en andere componenten van satellieten. Tijdens een protonenstorm is het enorm belangrijk dat astronauten zich begeven naar een beschermende capsule, om zo blootslelling aan rontgenstraling te verminderen.

Gelijktijdig met de zonnevlam en de protonen, is er ook een plasmawolk en schokgolf gelanceerd in de corona. De plasmawolk heeft een snelheid van rond de 1000 km/s. Zonder vertraging door de omringende (tragere) zonnewind zal de plasmawolk de baan van de aarde bereiken na 1 dag en 17 uren. Aangezien de plasmawolk niet recht naar de aarde vliegt, verwachten we geen directe botsing met het aardmagnetisch veld. We verwachten dus een beperkte geomagnetische storm in de ochtend van 11 augustus.

Mogelijke gevolgen aan de dagzijde van de aarde gerelateerd aan deverhoogde straling tijdens de zonnevlam:
verstoring van radiocommunicatie - sleepkracht op satellieten die net boven de atmosfeer van de aarde cirkelen - fouten metingen door navigatie systemen gebaseerd op satellieten (zoals GPS) - verstoring van radio signalen die door de ionosfeer gaan, worden o.a. gebruikt voor satelliettelefoon.

Mogelijke gevolgen gerelateerd aan de protonenstorm:
verhoogde straling aan de noord- en zuidpool en sterk verhoogde straling in de ruimte (o.a. het ISS en de aanwezige personen) - verstoorde radio communicatie dichtbij de noord- en zuidpool

Mogelijke gevolgen bij het aankomen op aarde van de schokgolf en de plasmawolk:
aurora in noordelijk gelegen gebieden. Kans op aurora in Belgie is beperkt. - sleepkracht op satellieten - verstoring HF radio communicatie
---
Une puissante éruption solaire a eu lieu à 08:05 UT aujourd'hui, le 9 août 2011 pour laquelle plusieurs alertes sont envoyés par e-mail.

Une forte augmentation de la radiation (une éruption solaire, ou ''flare'') a été mesurée par le satellite GOES. L'éruption a été aussi observée dans les images du Soleil prises par PROBA2/SWAP et SDO/AIA. La radiation solaire a atteint la Terre 8 minutes plus tard. Il s'agit de la plus forte éruption du cycle solaire en cours (cycle 24).

Après le maximum de l'éruption, le flux de protons de l'environnement terrestre a augmenté. GOES est aussi capable de mesurer ces particules chargées très énergétiques. Durant cet événement le Soleil envoie un grand nombre de ces particules dans l'espace, un nombre beaucoup plus important que d'habitude. Le flux de protons a dépassé le seuil d'une tempête, bien que le niveau de cette tempête n'est pas extraordinaire.

Le nuage de plasma est parti du Soleil au moment de l'événement. Il se propage dans le système solaire à la vitesse de plus de 1000 km/s. À cette vitesse (1000 km/s) et sans décélération, ce nuage couvrirait la distance entre le Soleil et la Terre en 1 jour et 17 heures. Le nuage de plasma ne se dirige pas directement vers la Terre, bien qu'un impact latéral soit possible avec comme conséquence la tempête géomagnétique.

Conséquences possibles sur la face de la Terre exposée au Soleil:
les communications radios peuvent être interrompues - les satellites en orbite juste au-dessus de l'atmosphère terrestre peuvent subir une friction plus importante - les systèmes de navigation basés sur les satellites et le passage du signal par l'ionosphère peuvent être perturbés.

Conséquences possibles associées à l'événement des protons: radiation supplémentaire autour des cercles polaires de la Terre et dans l'espace (la Station Spatiale Internationale y est vulnérable) - perturbations de la communication radio autour des cercles polaires.

Des effets supplémentaires sont possibles à l'arrivée du nuage de plasma, par exemple des aurores boréales.
---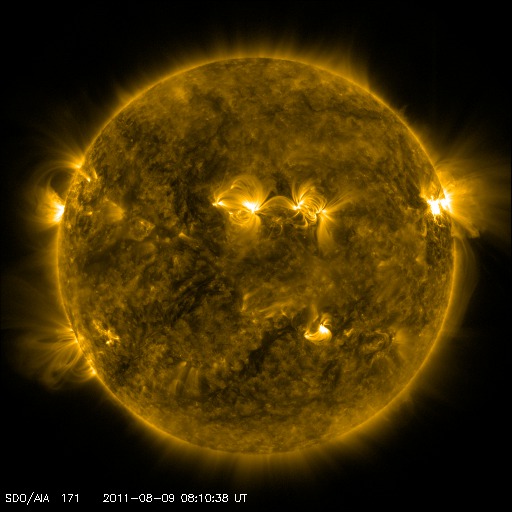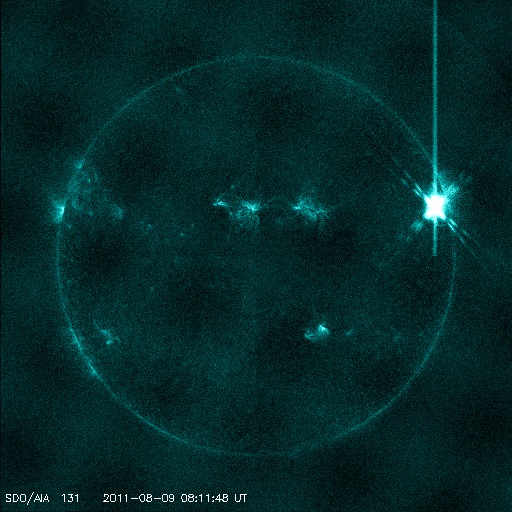 Two movies made by the AIA telescope onboard SDO. The movie on the right illustrates nicely the diffraction and blooming in the detector of the telescope due to the strong flare.
---
Submitted by PV on Tue, 2011/08/09 - 00:00