SUMMARY: Following up on its 17 March 2021 kick-off meeting, the Quo Vadis ESWC interim board now invites you to its discussion forum.
We invite you to a discussion on the future of space weather in Europe.
This discussion follows a white paper (https://www.swsc-journal.org/articles/swsc/pdf/2021/01/swsc200098.pdf). Since it was published, an online event 'Quo Vadis European Space Weather Community' was organised on March 17 2021. A "Quo Vadis Interim Board" was then set up, at the origin of this invitation. The discussion will go on until June 21st.
The Interim Board is composed by volunteers from the community in Europe. Its role is to coordinate the efforts so that the space weather European community can
1) Organize itself
2) Elect people to represent them.
To reach this goal, the Interim Board is inviting anyone interested in and outside Europe to join the "Quo Vadis European Space Weather Community " discussion forum.
Eligible European Space Weather Community members should register to the "Electoral Census" to be able to vote in June for the final choice of organisation.
This effort will be achieved through different actions indicated on the webpage at https://quovadis.aeronomie.be/index.php and in a special Slack workspace.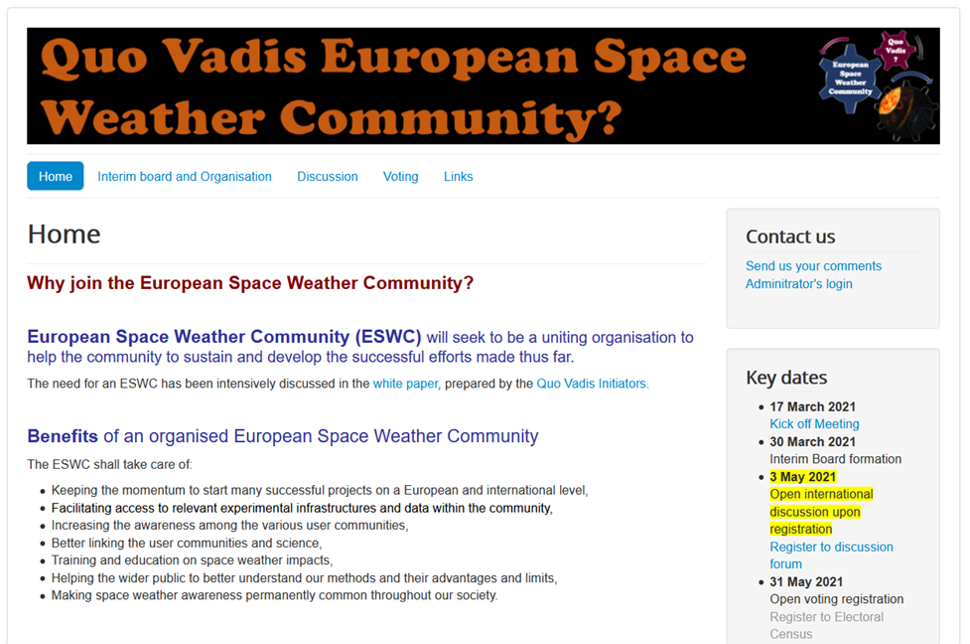 Submitted by JJ on Mon, 2021/05/03 - 11:21