Français - English - Nederlands
Français
Les éclipses de soleil ont lieu plusieurs fois par an mais il faut se trouver sur la trajectoire de l'ombre de la lune pour pouvoir les admirer. Le 10 juin 2021 une éclipse partielle de soleil sera visible en Belgique, de 11h17 à 13h25, heure locale. La lune couvrira un maximum de 26% du diamètre du soleil. Les télescopes solaires de l'observatoire royal de Belgique, situé à Uccle, (USET: http://sidc.be/uset/) sont utilisés quotidiennement pour monitorer et étudier l'activité solaire. Ce jour là, si la météo le permet, nous diffuserons en direct les images de l'éclipse prises par ces télescopes dans différentes longueurs d'onde. Il se peut qu'en plus du magnifique spectacle de l'éclipse partielle, diverses structures liées à l'activité magnétique du soleil soient également observables sur le disque solaire comme des taches solaires ou des éruptions.
Suivez l'éclipse du 10 Juin sur https://wwwbis.sidc.be/uset/Eclipse2021/index.php
English
Solar eclipses occur several times a year but you have to be in the path of the moon's shadow to see them. On June 10, 2021 a partial eclipse of the sun will be visible in Belgium, from 11h17 to 13h25 local time. The moon will cover a maximum of 26% of the diameter of the sun. The solar telescopes of the Royal Observatory of Belgium, located in Uccle, (USET: http://sidc.be/uset/) are used daily to monitor and study the solar activity. On that day, weather permitting, we will broadcast live images of the eclipse taken by these telescopes in different wavelengths. It is possible that in addition to the magnificent spectacle of the partial eclipse, various structures related to the magnetic activity of the sun will also be observable on the solar disk such as sunspots or flares.
Follow the 10 June eclipse at https://wwwbis.sidc.be/uset/Eclipse2021/index.php
Nederlands
Zonsverduisteringen komen een paar keer per jaar voor, maar je moet in het pad van de maanschaduw zijn om ze te zien. Op 10 juni 2021 zal een gedeeltelijke zonsverduistering zichtbaar zijn in België, van 11h17 tot 13h25 lokale tijd. De maan zal maximaal 26% van de diameter van de zon bedekken. De zonnetelescopen van de Koninklijke Sterrenwacht van België, gevestigd in Ukkel, (USET: http://sidc.be/uset/) worden dagelijks gebruikt om de zonneactiviteit te volgen en te bestuderen. Op die dag zullen wij, als het weer het toelaat, live beelden uitzenden van de eclips die door deze telescopen in verschillende golflengten is gemaakt. Naast het prachtige schouwspel van de gedeeltelijke verduistering kunnen op de zonneschijf ook verschillende structuren zichtbaar zijn die verband houden met de magnetische activiteit van de zon, zoals zonnevlekken of zonnevlammen.
Volg de eclips van 10 Juni op https://wwwbis.sidc.be/uset/Eclipse2021/index.php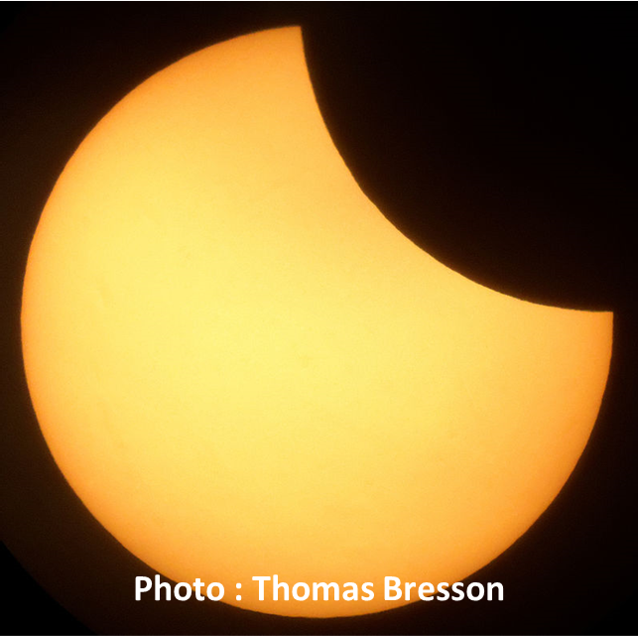 Submitted by JJ on Wed, 2021/06/09 - 12:16